Storewide Sales Up to 50% OFF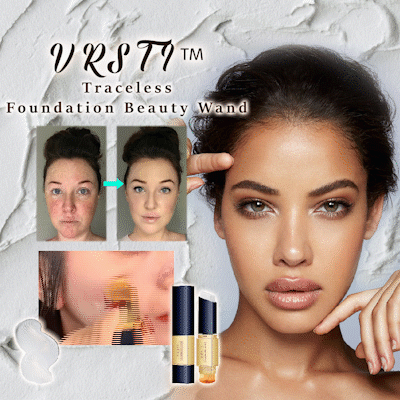 Imperfections Erased
With No Retouching
VRSTI™ Traceless Foundation Beauty Wand
The Secret Camouflage Stick

360° Complexion Perfection


Hide Imperfections and Cover Blemishes

Smoothen Uneven Texture and Brighten Complexion

Control Oil and Shine-Free
Boost Hydration and Strengthen Skin's Barrier

Light As Feather and Last 24hrs

No Cakey, Sweat-Proof, Waterproof and Smudge-Proof
Effectively
covered skin imperfections
Instant improvement
in skin appearance
Stay fresh, comfortable
and long-wearing
Foundation just got faster!
Creates an undetectable makeup base, helps every beauty look fabulous from all angles, so that will have everyone thinking
we were born this way!

Be Amazed By Our Coverage
A refreshing creamy texture hides skin imperfections as soon as it is applied and perfectly corrects the skin texture and tone,
keeping it looking healthy and beautiful



Blends seamlessly and effortlessly into skin for a "second skin" feel

Instantly Brighten and Correct
Effortlessly re-touch skin in two simple steps, for a naturally flawless complexion.
Correct—Camouflage for Complexion
Apply directly to blemishes, dark spots and other imperfections.
Brush gently to blend it into skin. Use alone or over foundation.

Brighten—Concealer for Blmishes
Gently glide on the needed area from the inner corner, moving outward.
Smooth evenly with the brush provided.

High Pigment Coverage,
Weightless Texture
Formulated to help hide all flaws and brighten uneven skin tone,
retain hydration, reduce imperfections and protect against environmental stressors
Long-Wear
Translucent Perfection
Housed in a travel-friendly, sleek rectangular stick,
this foundation with a fresh and silky texture works in harmony with the skin tone to achieve an even, matte and naturally vibrant complexion in any situation.

Improves its beauty day after day with a formula enriched in meticulously selected skincare ingredients to reveal the skin's full sensuality


Perfect Shades, Perfect Coverage, Perfect Makeup Look, Perfect Wearing Formula
Respects the skin and improves the quality of the complexion
Flawless Coverage, Perfecting Wearing
A foundation that is expert in make-up, expert in holding power and expert in skin care.

Honestly, I don't regret buying it. Your skin will look like it's been through photoshop in real life. My pores are barely noticeable and scars completely fade away. It's very lightweight for a more natural everyday look, and when you add a little bit of contour it's perfect for going out. It smells amazing and the packaging is simple. Very easy to wipe off as well. It lasts a whole day without having to retouch it. When the one I have runs out I will buy another one for sure.

I love this product. It's so smooth & it smells great! It's the perfect foundation for all complexion, so I always find myself coming back to it. I've used this product for months and whenever I try a new foundation (someone recommends something or gifts it to me, this is out of stock, etc.), I always come back to this one.

It's got a really creamy formula that's hydrating so it makes it super easy to blend out. There's so many uses for this product it's well worth the money.
Picture has no filter, you can see how nice and smooth skin looks , unbelievable this product, I highly recommend!